I got a vibrator in the mail today and I literally giggled with glee. Why? Because I had just received the Minna vibrator, Limon, that I had been drooling over for the past year. I've had an industry crush on Minna since I saw them speak at a Sex in Tech panel last winter, and you can imagine my delight when Minna offered to partner up in pleasure with Sensory Fuse and donate a Limon vibrator for our first film shoot.
I took a minute to sit down with Brian, one of the co-founders, and pick his brain on what brought Minna together and how they've become one of the most innovative players in the pleasure product sphere:
Tell us a bit about the core team of Minna. What is their background, and how did the company come to be?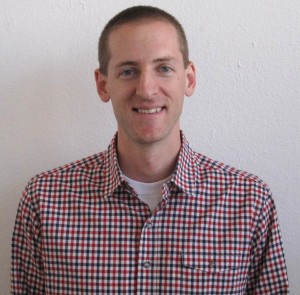 We originally started working on Minna as a group of people who came from a variety of different backgrounds. A couple of us, including myself, are engineers and our background is in consumer electronics, robotics, and smart product development, but we also knew some people who had a background in pleasure products in a more traditional adult space, and others with a background in product design.
We basically all started talking about how we were disappointed with the level of the products that were available in the pleasure space, and what a shame it was because it is such an important part of human health and quality of life. It seems like an area where people deserve good products.
So we started brainstorming and one thing led to another and we started to build the prototypes, which people were excited about, so we refined them and went to trade shows, and before we knew it we had a company on our hands.
In the beginning, were you able to find inspiration in any companies in the product development or adult sphere?
Well, as a whole we were disappointed with the product level but that's not to say that there weren't some good products out there. Jimmy Jane is one example, to take a San Francisco neighbor of ours. I definitely would say that they were pioneers in trying to create really high quality products, and spending more time on design. Ethan worked hard on pushing that agenda which we really respect and they opened a lot of doors for many people in our space. There are a number of other companies like OMiBod and LeLo which have created some really beautiful products, and there were definitely certain elements where we were like: that's really great, we want to be able to live up to that.
There are also a lot of really articulate, very smart sex bloggers and that has been a source of inspiration and to a certain extent, a source of fear. These bloggers are very honest with their opinion so we want to make sure that we create products that they and everyone else will enjoy and appreciate. It has been a good way to keep the standards high and keep us on our toes.
Your company is based out of San Francisco, which is known as a bit of a mecca for sex positivity. Do you feel like you've been able to reach out to those networks?
I definitely agree that San Francisco as a whole is a great sex positive center. Our inclination in some ways is to work as hard as we can, but to keep our heads down a bit. However, one example of a sex positive network we were able to tap into is the Good Vibrations network of stores which is based here. They are a fantastic retailer, and it has been really great for us to bounce ideas around, and work together with them.
The other positive I would say on a more general basis, is being able to talk to people about pleasure products. There are certain parts of the U.S. where we couldn't be as open about what we are doing. Almost every single person who we've talked to in the last four years has been super happy to give thoughtful input. So everything from the ease with which we can find product testers to just being able to get peoples thoughts and input is a really valuable ability and it's something that's really great about this area.
Were there any hard lessons that you had to learn as you were starting out?
Haha, always. At the beginning and through the present we are learning every day. We had a bit of experience in product manufacturing because of the engineering and product development part of the team, but doing it all yourself is a whole new animal. We learned just how hard it is to create hardware: the development process, the manufacturing process, quality control.
It's expensive to create hardware, so that was something that was a constant learning experience as well in terms of creating a real, physical product and working to get it out in the world, on shelves, in people's homes.
Speaking of finding money for the project, you've had great success with two crowd funding campaigns. Can you tell us a little bit about that experience?
We had a really good Indiegogo campaign for our second product, Limon, which we did last summer, and then we did a Kickstarter campaign just a few months ago for KGoal, our newest product, which was also successful. It's been a very interesting experience both times.
I think that it is certainly possible to raise money on a more traditional basis, whether it's venture capitalists, angel investors or what have you in the adult space, but I certainly feel that it is more difficult than it would be in other areas. It's an additional area of risk, in a context where there is already a lot of risk in trying to raise money for a startup. We certainly never had somebody tell us that they had a problem with the space, or the taboos surrounding it, but it is an underlying issue.
You know, it's interesting, I actually feel like people's opinions of the adult space are generally fairly progressive and personally nobody thinks it's wrong or has a problem with it, but their perception of public opinion lags that. I've talked to a lot of people who've said "Oh, I personally don't have a problem with that. I think it's awesome. I definitely see the opportunity. I see the argument, but I don't think that everyone feels that way."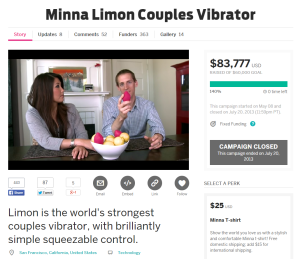 They think that they're more positive or open-minded, and I've talked to enough people that way, that I just want to tell them, nobody cares. So it's this weird thing where it feels like public perception has actually shifted, but people just don't realize it has. They think that they are an outlier when in fact, their opinion is the norm.
The crowdfunding provides a really interesting mechanism to come up with some capital outside of the traditional structures, and it also is a fantastic venue for feedback from your customers or users and great market evaluation. You create something that you clearly think is cool and the question is, can you convince other people, or do other people agree with you?
That's a pretty valuable question to be able to answer, and also to be able to answer on a more honest basis. If you ask somebody, maybe they don't want to hurt your feelings so they won't give you their honest opinion, but if they actually are putting money down, that's a much stronger endorsement, one way or the other.
Do you have any advice for a company that might be starting an Indiegogo campaign in the adult sphere?
Yeah, definitely. One big thing that we've found is that word of mouth and social media are a challenge. That's not a lesson that we or anybody else trying to do something wants to learn. We find that, and this actually ties in with what I was just talking about, that people personally are fine with the adult space, but they think that other people in the world have an issue with it.
Look at the backers of the Indiegogo campaign. They clearly are excited about it, and they want to put in some money to support what you are doing but a lot of them would much rather put in some money to support your campaign than they would put in a link to it on their Facebook page, and so that is a challenge. We've found that traditional PR can be much more effective, because writers and websites are trying to drive page views, and it's anonymous to read an article.
Ultimately, I think the most important thing we learned is that the story you're telling is a really important part of the campaign. From our perspective, we've created a product which we thought was great, but on some level, whether the product is good or bad, no one knows because they can't see it or touch it until it gets shipped.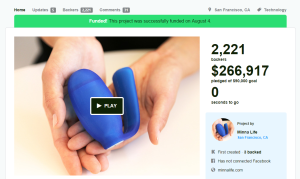 You mentioned earlier there were some more inherent difficulties in finding funding for an adult related company. Were there any instances in which you had to take an extra step, or an extra ten steps to get to your goal in other areas?
So that's an interesting question. I've actually talked to a number of people in the adult space who have had trouble along those lines, like with getting bank accounts for example. I'd say we've been pretty lucky, though we did apply for a Small Business Association loan and we were rejected categorically because of the space we were in.
However, beyond that, I'd say that for most of the vendors we've worked with, I don't think our space has been a huge problem. I think that may be partly because we kind of need to know who we're talking to, and we may want to soft pedal the space we're in.  It's easy for us to say that we make massagers or consumer electronics, and depending on who they are, how much they care, and how hard they want to push, they might just say, ok.
But regardless of trying to spin a story one way or another, we honestly feel that our space in the world focuses on sexual health. Obviously, some of our products are closer on the end of the spectrum towards pleasure, but our newest product which is a pelvic floor exercise training platform for Kegel exercises, certainly lies on the spectrum around the end of health and wellness.
We don't define ourselves as a sex toy company in a narrow sense. We define ourselves more broadly as a sexual health and wellness company and so potentially that's a little bit more approachable for institutions that would have an issue with a pure sex toy company.
Can you tell us a little bit more about the projects you're working on right now?
The big one is the smart pelvic floor system. It's called KGoal, and it is a 2 part system; there is a physical device and it also connects to a smart phone. Pelvic muscle health can be crucial for both men and women in the context of bladder control, sexual function, musculoskeletal stability, pregnancy and post-partum recovery.
Trying to keep those muscles healthy is obviously a really important part of good health over all, but we discovered that there are not a lot of tools that are as effective as we would like to see in terms of helping people with that. We started by talking to a lot of people, both users and medical professionals, like physical therapists and doctors, about pelvic floor exercises.
One of the problems that we wanted to solve was the ability to receive bio feedback. Studies have shown that a lot of people don't necessarily have their pelvic muscles mapped to their brains. It's kind of like if I tell you to wiggle your ears. You may be able to do that but a lot of people can't.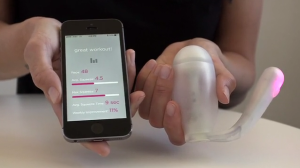 This is similar to the pelvic floor muscles because bladder control is often subconscious. If you tell some people to contract their pelvic floor, it is fairly common for people to actually contract their glutes, their abs, or their inner thighs, so the ability to provide biofeedback and help people make sure that they are actually exercising the right muscles is important.
Also, from doctors and physical therapists, we kept on hearing that by far the biggest problem they see is compliance. They recommend that people do these exercises and the people say, "Ok, sounds great, I'll do it" and then they don't do it. The consensus seems to be that they can be kind of boring. Frequently, you're just sitting there, contracting the muscle and relaxing it, and so this ability to tie in the experience with a smart phone gives you a platform to create games or other interactions that can be much more engaging. The goal was to make this feel like less of a chore and more like fun.
We also added the ability to quantify your exercise history. A lot of people have been getting excited about personal data tracking, so we wanted to extend that to pelvic floor exercises and we're giving people the option to share the data with their doctor or physical therapist.
The last problem we wanted to solve was that a lot of the pelvic floor exercise products are rigid, so if you look at Kegel Balls as a product category, they are what they are. They have a fixed diameter and if they're too small for you, you can try to get a different size, but if you don't get the perfect size then you're out of luck and if your body changes over time you will need to buy new ones.
We went with a design that is essentially a squeezable pillow with air pockets inside. There is a vent and you can control the level of inflation to be optimized for your body and what's comfortable for you.
That sounds really exciting. Do you have a release date set for that?
Yes, so right now we are on schedule to be shipping products to our Kickstarter backers, which, knock on wood was our original schedule. Then we are planning on a more official launch in January to build on the New Year's Resolution. We are very excited to be building towards that and actually this week and next are an engineering build with some of the first samples from our actual headline manufacturing tooling.
It was certainly a pleasure speaking with Brian, and you can share the pleasure too with a 10% discount off of all Minna products using the promo code FUSE2014! But hurry, this promotion ends November 5th, 2014!